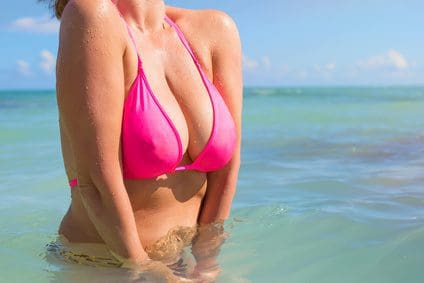 Breast augmentation, often called a "breast aug" or "boob job," is a surgical procedure using breast implants to increase the size of your breasts. Breast augmentation can also help restore breast volume lost after pregnancy, weight loss, and to lessen the appearance of breast asymmetry.
The technical term for breast augmentation is augmentation mammoplasty.  A silicone gel implant or saline implant is used to add volume to the breast.  Less commonly, fat from another part of the body can be used to add volume to the breasts.  This procedure, called fat transfer breast augmentation, is more limited in the amount of volume that can be added.
There are many types of breast implants available.  The basic two types are saline breast implants (salt water, IV fluid) and silicone breast implants (filled with silicone gel, i.e., "gummy bear implants").  And there are many varieties of each of these, as Dr. Thaxton explains in a video on our YouTube channel.  Dr. Thaxton was a clinical investigator for a major breast implant manufacturer.  The information collected in this study led to the FDA approval of silicone gel filled implants.  As an expert in the use of breast implants, he will give you the information and advice you need to choose the type of breast implant best for you.
What breast augmentation surgery can do:
Increase the fullness, firmness and projection of your breasts
Help your breast and hip contours look more balanced
Improve your self-image and self-confidence
What breast augmentation surgery can't do:
The appearance of severely drooping breasts is not corrected by breast augmentation A breast lift, or mastopexy, may be needed in addition to your breast augmentation to improve the appearance of sagging breasts.
A breast lift (or mastopexy) can usually be done at the same time as your breast augmentation. We will assist you in making this decision.
You can watch more videos about breast implants and breast augmentation on our YouTube channel! You can see before and after pictures of Dr. Thaxton's breast augmentation patients in our gallery. If you want to ask any more questions or schedule a consultation to talk about what you'd like from a breast augmentation, please call us! 304-925-8949 Or click the "Contact us" button to send us an email.