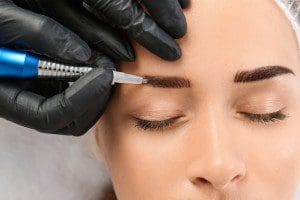 W

hat is Microblading?

Microblading is the process where our aesthetician uses a special hand tool to draw or etch each eye brow hair.  She uses semi permanent ink to draw these eyebrow hairs. She shapes them and colors them to fit each patients goals. Microblading is often confused with "eyebrow tattooing." But it is different from eyebrow tattooing in two ways mainly.  First, because microblading uses semi-permanent ink. Second, with eyebrow microblading, our aesthetician draws each eye brow hair individually with a special blade to create a natural look. With eyebrow tattooing, the eyebrow tattoo is applied with a tattoo needle and ink.
Why is it so popular?
Microblading has gained in popularity recently due to Hollywood stars who have thicker more robust eyebrows. It is also popular because as we age, we tend to lose some of our natural brow due to the aging process and also from years of plucking or waxing.
Who can get Microblading?
People who have sparse eyebrows love their results from our Microblading. Or people who have lighter colored eyebrow hairs than they would like. Our aesthetician works with you individually to decide what kind of result you are looking for. It comes in handy that she has done tons of microblading procedures over the past years. Some of our Microblading before & after pictures can be found on our Instagram page and on our Facebook.
How much does it cost?
Typically microblading in our office runs around $500. Call us to schedule your very own appointment for eyebrow microblading and talk to our aesthetician about what kind of eyebrows you want!