Minimally Invasive 
The Cellfina® System treats the primary structural cause of cellulite—the connective bands woven throughout fat in the thighs and buttocks. These tight bands pull down the skin, creating the puckering you see on the surface of the skin. Similar to a rubber band under tension, once released, the treated skin bounces back to smooth itself out in as little as three days.
Limited Downtime
After the Cellfina® cellulite treatment, patients can go about their day, but may want to take it easy for up to 24 hours. There have been no serious adverse events associated with Cellfina®. The most common side effects reported by patients in the FDA-approved pivotal study were soreness and bruising. Over 90% of patients had no bruising at four weeks after the cellulite procedure. For full product and safety information, including possible mild side effects, visit cellfina.com/IFU.
TAKE THE MY CELLFINA EVALUATION to see if you are a candidate at
Happy Patients
Patients in the clinical study showed significant improvement within three days after the treatment. Three years after treatment, 100 percent of Cellfina® Patients had noticeable improvement (based on the Global Aesthetic Improvement Scale (GAIS)). Cellfina® Patients report high rates of satisfaction with their treatment results. At three months, 85 percent of patients were satisfied, at one year 94 percent were satisfied, after two years, 96 percent of patients were satisfied and after 3 years, 93 percent of patients were satisfied surpassing the patient satisfaction rates of other leading cellulite treatments.*
*Satisfaction rates were evaluated separately and are not based on direct comparisons among treatments.
Smooth that lasts.® Guaranteed.
We're so sure you'll see real, lasting results with a single Cellfina® Procedure, we're backing it up with a promise. If your cellulite dimples return within a year of treatment, it's on us to make it right. We'll work with your doctor to cover your re-treatment at no cost to you.* That's the Cellfina® Yearlong Assurance Guarantee. All you have to lose are those dimples.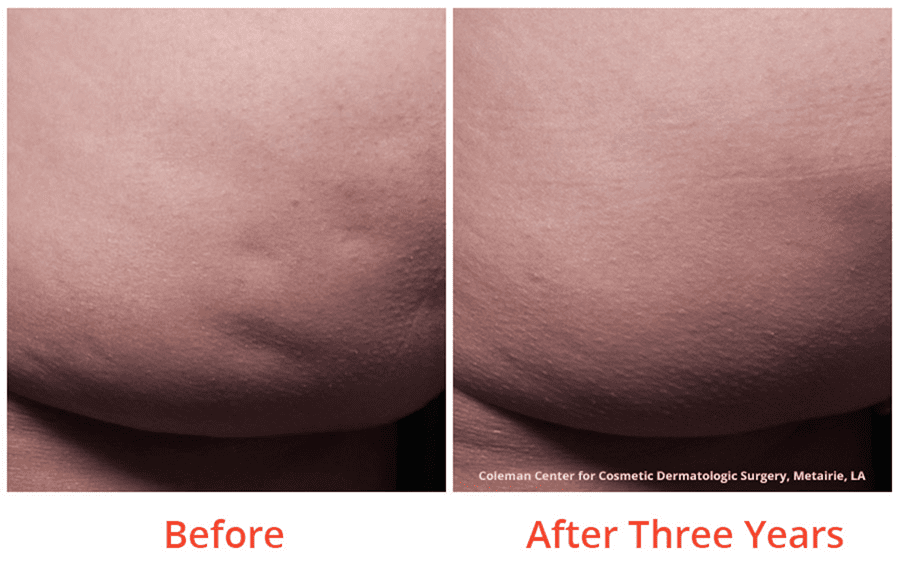 Or watch him perform a Cellfina live here.