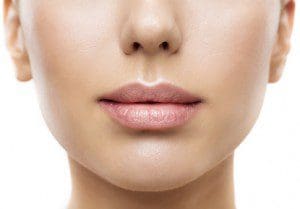 W hat is Lip Fillers?
Lip fillers (or "lip injections") creates fuller, plumper, more defined lips. Lip augmentation can also reduce fine wrinkles around the mouth. Lips may be injected with hyaluronic acid fillers or with fat transferred from another site in the patient's own body. Hyaluronic acid fillers is absorbed, and repeat treatments are necessary to maintain results. We here at Thaxton Plastic Surgery prefer Juvederm® brand of Hyaluronic acid. Fat transfer lip augmentation typically lasts longer.  We also perform fat transfer.
How is Lip Augmentation Performed?
The Juvederm® or other filler or the patient's own fat is injected or implanted in the lips. Results are usually temporary, depending on the material used. Injections may be repeated periodically.
Proper placement of the lip augmentation injected material is important. For this reason, we always recommend checking for to make sure your injector is board certified by the American Board of Plastic Surgery & is a member of ASPS, a.k.a. the American Society of Plastic Surgery.
Risks & Benefits of Lip Augmentation: 
Some benefits of lip augmentation are: Fuller, plumper lips. Immediate return to normal activities is the norm.
Hyaluronic acid lip augmentation is often appealing to patients who want to experiment with fuller-looking lips but not necessarily commit to it. There is an option for dissolving this material, should the patient desire, and the cost for this is similar to the cost of the injection(s).
Some risks include potential prolonged redness, swelling or itching, firmness at the injection site. Other possible complications include bleeding, lip asymmetry, and migration and extrusion of the implant. Normal swelling and bruising lasts from three days to a week. Allergy & infection are risks with any injection or procedure.
The injections are usually painful due to their location, and we use topical numbing cream to help mute this response.
Hyaluronic acid injections last approximately 9-12 weeks; fat injections last longer, but are sometimes unpredictable as to the degree of improvement, potential lumping or scarring effects, and must be harvested from another part of the body.
Lip Augmentation Injections' Cost:
Individual patient goals vary, and their needs to attain these goals vary. The number of syringes of filler needed varies from patient to patient.  As such, cost for lip augmentation varies. The range for lip augmentation in our office is usually between $1,000–$2,000. We are happy to discuss these issues with you and give our treatment recommendations in a complementary cosmetic consultation with our board-certified plastic surgeons. Come right on in & talk to us!  Tell us what your goals are.